Hey everyone! Thanks to the people who signed up for patreon, I was so excited to get a few people i practically went nuts trying to film everything I had been making images for so I'd have lots of fun stuff to show for the next few months, as well as getting other bonus content up that I could send to the high-end donors.
It seems like the year is blasting by so quickly, but I am finishing up the ends of projects so I can get everything on display and ready for Planet Comicon in Kansas City, MO! This is my first year at a convention as big as this one, and I would love to see if anyone comes by who has regularly visited my website. My booth will be in Artist Alley, #732: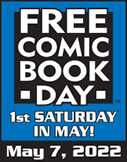 After this weekend, I will be hanging out at the Des Moines' location of Mayhem Comics for Free Comic Book Day, handing out free stuff as well as being available for sketches! Not only are there going to be some really amazing freebies this year, but this is the first FCBD I'll be working as well. Two weeks in a row of firsts!